"20 Years of Limitless Possibilities"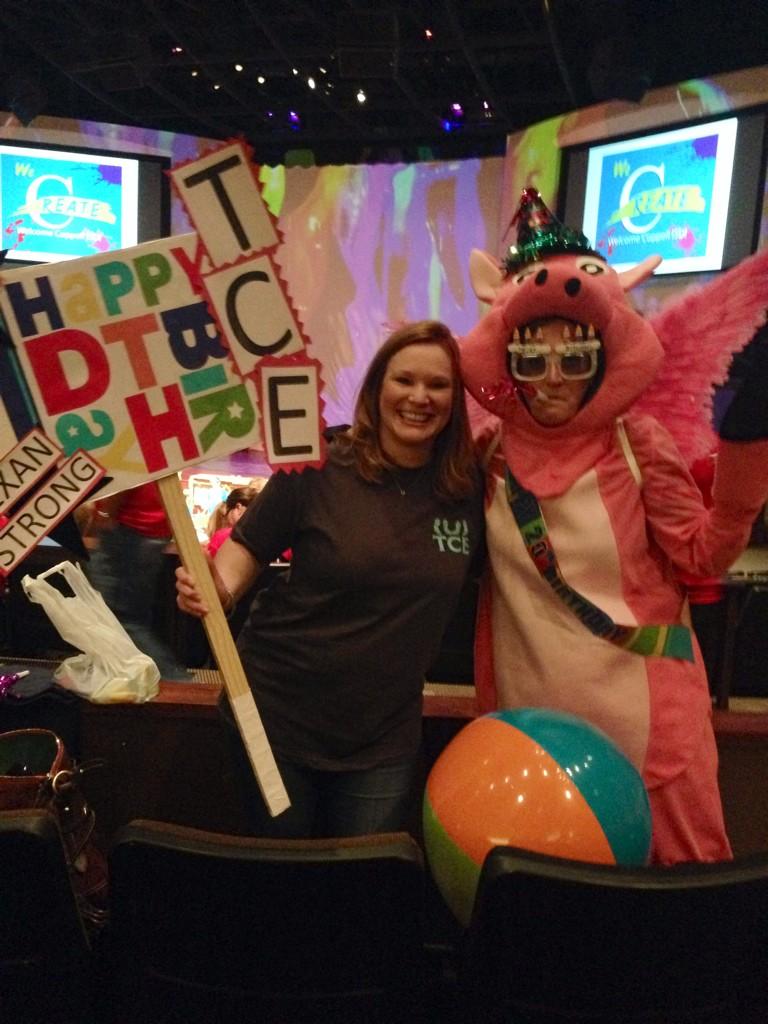 Can we say TCE rocked it at convocation?? Yes, we can!!
How much do we love Marnie aka "Bacon"? Soooooo much!!! Thank you Marnie for your positive energy and for always being willing to put a smile on our faces as you support TCE!
Can you believe it everyone? We made it through our first week of school already! It is truly amazing to see how all of you are already forming such wonderful relationships with your kiddos and continuing to build relationships with our TCE family!
I am trying something new this year with the blog! Hopefully this will help you all with not having to go back and pull up old emails with info since it will keep a record of everything in the blog. Also, I wanted to have a tool that I could use easily and add more reflection pieces throughout the year!
Twitter
I love seeing all of the Tweets on Twitter. Keep it up! Remember that the more we communicate what is happening at our school the more our parents and community understand "the why" and "the how" behind learning at TCE!
Don't forget that when you use #tcetexans that it will link to our campus website!
If you didn't get the chance to view the video from our professional learning day check out this link! It is posted on Twitter as well!
Who Are We at TCE?
Upcoming Weekly Events for Sept.1st-5th
Monday- Labor Day, No School
Tuesday- Have a Terrific Tuesday!
Wednesday- Have a Wonderful Wednesday!
Thursday- 5th Grade Safety Patrol Meeting at 2:00pm
Curriculum Night:
Kinder-2nd (5:30-6:30pm)
3rd-5th (6:30-7:30pm)
Kinder will be in the Library, 1st will be in the Cafeteria, 2nd will be in the Gym
Then 3rd will be in the Cafeteria, 4th will be in the Gym and 5th will be in the Library
Friday- Have a Fabulous Friday!
Life Principle: Patriotism
Cowboy Courtesy: When the National anthem plays, stand and show your respect for your country.
ABC of Etiquette: Never place your elbows on the table.


Important Reminders and Updates
All of our Faculty, Vertical and PLC meetings will be on Wednesdays this year! (Usually they will start on the first Wed. of each month, but since we have Curriculum Night this week, I wanted to give you time to plan and such, so our first will be next Wednesday)
I am going to be creating a screencast video that I will be sending out to parents to showcase the usual slides that I have added to your grade level presentations. I will be sending it out to parents this week so you will not have to discuss those items during curriculum night. Hopefully that will give you more time for curriculum and questions!
Please remember to blind copy on all parent emails where other parents emails might be displayed as we want to make sure we are not sharing parent email addresses of those not wanting to share!
Keep up the great job of having our learners use their Hallways Expectations! It has really made a difference in the building!
Please remember to email me and Brett when you have completed the Digital Citizenship Lessons for your classes!
Make sure you have signed your name to the Blood Born Pathogen Training and Allergen Training as well as placed the certificate in Sue's box!
Make sure you read the email from Kelly about Child Abuse training and complete those modules by September 30th!
Alicia and Patcee have been working on getting all of our technology equipment ready to go and we will start distribution soon, please be patient as they want to make sure everything is working properly before distributing!
Remember to bring your receipts for the PTO reimbursement and turn into the PTO box. If you have questions, please check with Marnie!
Some of you may have noticed that our shout out board is now up and going, so if you have someone to celebrate please do so on the paper and then post to the board. These will be read out during our faculty meetings again this year!
Birthdays and Shout Outs!
If you didn't get a chance to wish Casey Wagner and Kelly Spears a Happy Birthday during August make sure and do so! I will post our September birthdays this week!
Shout out to KaTrina Brown, Mary Kennington, Kim Becker, Cindy Schroeder, Candace Coffee, Alicia Montgomery, Cathy Wilson and Brad Cook for helping to cover for our early dismissal this week!! You were all greatly appreciated!
Shout out to Kinder, 1st and 2nd grade teachers for getting assessments done for your kiddos!
Shout out to Kim Becker for getting our RTI updated lists distributed and updated for everyone!
Shout out to Mary Kennington, KaTrina Brown and Stacey Watson for getting all of our Special Education/Speech paperwork/documentation ready to go and distributed to everyone!
Brett Shelby and Kelly Spears for getting all of our 504 info distributed to everyone!
All of our K-5 teachers for the great job you are doing being on time to drop off and pick up for specials!
Kelly Spears for getting our MAP calendar ready to go for upcoming assessments!
Marly Natherson and Alicia Montgomery for getting our TCE Curriculum Google site updated for this year and Marly for getting our Announcement schedule ready to go!
Patcee Becerra for the wonderful job she is doing making sure we are up and going with our technology needs!
Resources and Ideas
Classroom teachers you may want to start thinking about ways in which you and your learners can communicate on a more global level this year. A great resource would be to look at epals. This is a site that connects your classroom to other classrooms around the world and your learners can collaborate and communicate with one another about their learning.
Click here to go to epals
Another great site you may want to check out is called Mind/shift. It gives great insight into learning and you can follow them in order to get updates about innovation, creativity and technology in learning!
Click here to find out more about Mind/Shift
Final Quote
I have been doing a lot of thinking about making sure I am finding balance in my life and more than anything remaining positive and appreciating the small things that bring me happiness.
Remember that quotes are a great way to engage your learners and help them make connections or share their feelings. They could be quotes they find by famous authors or even quotes from they may say or those around them may say.
Here is one I found that I enjoyed for today.
"If you change the way you look at things,
the things you look at change."
-Wayne Dyer
A Few Pics to Celebrate the Start of School